How it All Began...
Back in 2001, Gavin Fysh and his brother Steve created a website for Steve's church. Over the next few months, they were often asked to add updates and make other changes to the site.

Although happy to help, the brothers got to thinking. Why not create a tool that would allow the church's staff to update the website themselves? Better yet, suggested Gavin, why not create a whole program that offers any church the opportunity to create an easy-to-use, high-quality website that can be customized to fit its exact needs?

Thus, Church Web Works was born.

Now, it wasn't the easiest birth in the world. The economy was experiencing the largest downturn in the tech sector in history. To start a company under these circumstances was risky, but Gavin pressed forward. He believed in the company's potential and put his money on the line to prove it.

The company opened its doors in April 2001 with three staff members on board: Gavin, Steve, and a former coworker, William Peabody. The three worked long hours creating templates and features specifically geared towards churches and then worked even more spreading the word about their product to potential customers.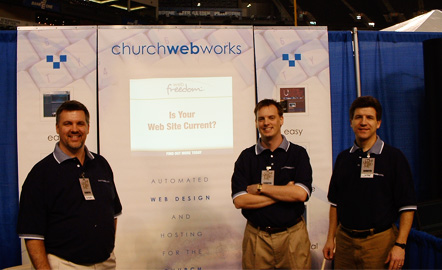 About a year and a half later came the company's big test—the Promise Keepers Leader Conference. Hoping for a lot of interest and an occasional sale, the team sold beyond their wildest dreams. Gavin is sure that God was there moving for the company.

Today, Church Web Works serves churches of all sizes across the nation. The software program is in its fifth incarnation with the current release of version 5.0.

Interestingly, of the now eleven employees that make up the Church Web Works family, not one was solicited through advertising. "The right people just seem to find their way here," says Gavin.